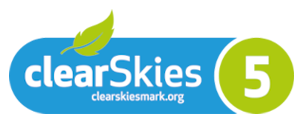 The highly prized clearSkies 5 mark of excellence tells you that no stove is kinder to the environment. It is an independently assessed endorsement that your stove exceeds all of the latest UK regulations. We fully support the government's EcoDesign directive to ensure all stoves manufactured from 2022 onwards comply with strict environmental measures.
Laboratory Tested
Any stove that has a clearSkies accreditation has been demonstrated to meet scrupulous safety standards for carbon monoxide (CO) and nitrogen oxide (NOx) emissions as well as environmental pollution rules that limit the emission of particulate matter (PM) and organic gaseous compounds (OGC). And that's just the lowest of the clearSkies ratings!
Exceeds All Standards
The Newburn 5 has been awarded the highest possible clearSkies mark. The Number 5 tells you it is approved by Defra, the goverment's Department for Environment, Food & Rural Affairs. Furthermore, it has been tested under laboratory conditions to be even more environmentally friendly than EcoDesign stoves. A rating of 4 means reducing CO, PM, OGC and NOx by a factor of 15% better than the EcoDesign pass mark. And the rating of 5 indicates an additional 15% environmental improvement. So you can feel confident that your new stove has been designed and built for a sustainable, greener future.